Digitalization is becoming more and more of a norm in our life, and this includes shopping online.
E-commerce is a business model that lets companies and individuals buy and sell things over the internet.
In the year 2019, many stores in the United States are closing their outlet so they can move to a more digital system. 
By 2026, UBS estimates more than 75,000 outlets need to be shut down due to the penetration growth of e-commerce reaching 25%, whereas today's 16%.
From January to April 2019, around 5,000 retailers already closed their outlets.
With a growing want to move businesses online, one of the easiest ways to break into it is to sell on an online marketplace like Shopee.
In this article, we cover what is Shopee, and how to start selling on Shopee.
What is Shopee?
Shopee is an e-commerce marketplace platform originating from Singapore and is currently leading in Southeast Asia and the Taiwanese market.
Founded in 2015 by Singaporean billionaire, Forrest 'Xiaodong' Li. Shopee was originally designed as a social and mobile-oriented marketplace where customers and sellers can search, buy, and sell their product on-demand.
With the integration of payment and logical support, Shopee is making online shopping effortless and secure. When it was launched Shopee was focused on Consumer-to-Consumer (C2C) but since then, it has evolved into a hybrid model of C2C and Business-to-Consumer (B2C).
As of Q2 2019, Shopee's gross orders skyrocketed by 92.7%, from US$127.8 million to a staggering US$246.3 million.
Their gross merchandise value also increased by 73.7% from US$2.2 billion to US$3.6 billion making it the biggest e-commerce platform in Southeast Asia.
The Most Popular Online Marketplace in Malaysia
As of March 2020, there are many ecommerce platforms in Malaysia, such as Lazada, Lelong, Zalora, GoShop, and many others.
But as of Q4  of 2019 (October – December 2019), with almost 28 million online traffic clicks and 10 million more than the next competitor, Lazada, Shopee is the most visited e-commerce in Malaysia (statista.com). 
Shopee's Benefits: Why Shopee Is Popular
There are many features in Shopee that caused its rise in popularity.
Such features that few of their competitors have are:
0% Commission Rate For Normal & Preferred Sellers

Shopee Guarantee

Seller Types

The Shopee Mobile Application

 
0% Commission Rate For Normal & Preferred Sellers
Normal and preferred sellers are 2 of the 3 seller types on Shopee. We talk about this in detail in the next section.
But yes, normal and preferred sellers benefit from having a 0% commission fee.
With a 0% commission fee, these sellers can make as much profit as possible, whatever the price that they listed for, that is the amount of money they will earn.
0% commission also encourages lower prices for the buyer, as the seller doesn't need to increase their price for extra profits.
Below are the commission fees of other ecommerce platforms in Malaysia. In Shopee's case, the commission fees differ between non-mall sellers(0%) and mall sellers (3-5%)
Shopee
Lelong
Lazada
PrestoMall
Commission Fee
0%; 3%-5%

0.3%

to

8%

0%; 0.5%

to

12%

1%

to

10%
Similar to Shopee, only Lazada Mall sellers will have to pay a commission fee*
Commission fees are different from transaction fees*
Shopee Guarantee
Customer security is one of the important points that Shopee has to tackle to be successful in the open market. No customer or seller wants to be involved with a platform that doesn't care about customer security.
That is why Shopee one of Shopee's features is the Shopee Guarantee
The Shopee Guarantee is a feature that doesn't allow any money to be transferred to the seller before the buyer receives and approves the product that they ordered.
In order for the money to be transferred to the seller's bank account, buyers need to approve that the product arrived safely and as ordered. If the product has defects, the buyer has the right to claim for a replacement item or a full refund.
Seller Types
Increasing customer satisfaction is also important for Shopee. That is why Shopee categories sellers into three different categories:
Normal Sellers

Preferred Sellers

Shopee Mall Sellers
Below is a table that goes over the difference of features each seller has.
Difference Between Sellers Categories
Features
Normal Seller
Preferred Seller
Shopee Mall Seller

What products do they sell?

Selling their own product

Selling new or used product

Selling genuine and authentic product only

Brand new product only

Who can be categorized?

Everyone

Selected sellers that meet the requirements

Official Brands (Apple, Samsung, Sony, and others)

What are the requirements?

None

High Rating

A lot of successful transaction

Great customer service

100% authentic product

Provide 15 days return

Free shipping for certain price point

How to differentiate them?

None

Special "Preferred" label and special search filter.

Special "Mall" label and special search filter.
---
Not every user can be a preferred seller, only a select few that meet Shopee requirements are able to receive the Preferred Seller rank. 
To become a preferred seller, you will need the following (updated for the revised version):
Preferred Seller Minimum Requirements

Criteria

Requirement

Minimum Monthly Orders

≥75 Monthly Orders

Minimum Monthly
Unique Buyers

≥35 unique monthly buyers

Minimum % of
Chat Response

90%

Minimum Shop Rating

≥4.7 / 5

Pre-Order Listing

<5%

Penalty Points

0 Points in the current quarter

Product Listing

100% Authentic

Shopee Supported
Logistics

Enable ≥ 2 Shopee Logistics Partner
for ≥75% Product listings

Exclusive of tickets & vouchers, software,
ebook listings & gaming top-ups
Shopee's Mobile Application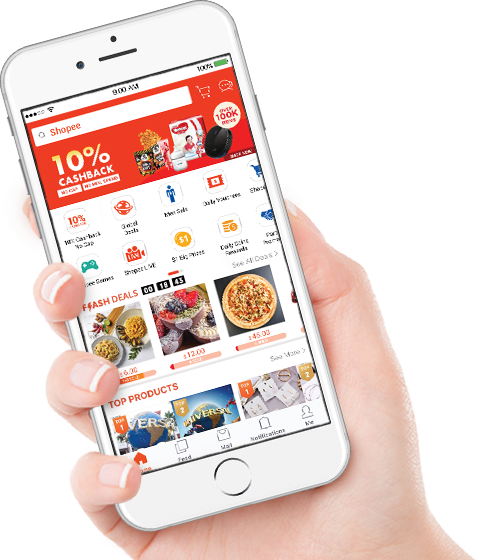 The Shopee mobile application is available for both Android and IOS.
You can do almost anything in the Shopee app with minimal effort to understand how the system works.
Shopee uses one application for its sellers and buyers. By using one application only this we allow Shopee to easily monitor their application and fix any bugs that might affect the system.
Due to the simplicity of the app, almost everyone is able to do online shopping with Shopee. 
Does Shopee Have a Drawback?
Shopee isn't perfect, as the platform is an online marketplace, and relies on people using the platform.
Common problems, for both buyers and sellers, are that the people you do business with are not controlled by Shopee. So you may encounter some interesting individuals who will give you a headache when doing business with them.
Shopee has placed many ways to reduce it, but you will eventually meet someone who embodies the living form of a migraine. But this is true for all marketplace platforms and even offline commerce.
This shared problem will always be worked on, and you can help out by contacting Shopee themselves to help with your disputes.
Steps on How To Be A Seller on Shopee
There are two ways to sell your items in Shopee which is, by using their mobile application or by using their official websites such as www.shopee.com.my (for Malaysia). 
Selling on Shopee mobile app

Download the application on your phone, Shopee application is available both for Android and IOS.

After the download is completed, open the application and select your preferred language.

Select the "Me" menu on the bottom right corner of the home screen.

Click "Sign Up" to create a new account or click "Log In" if you already have an account.

Shopee allows you to sign up using phone numbers, Facebook, Google, and email. You can choose any of the options. (Remember, you can't sell your product before signing up!)

After signing up, you can start selling by clicking "Start Selling" on the top left corner of the "Me" menu.

Click "Add Product" and choose from the available options on how you want to select your pictures.

After you select your pictures, you can start editing the pictures to make it look more attractive for your customers. You select up to 9 pictures and videos.

Fill in the information that is required, like category, price, stock, variation, weight, shipping fee, and days to ship of the product.

Make sure to turn on "Publish Product" so that your product can be viewed by millions of buyers.

That is all to list your product, you can open "View My Shop" to check on all your listed products.

If you make a mistake when putting the required information, you can edit your product by clicking "Edit Item".
Selling on Shopee's official website
Open your browser and type in

www.shopee.com.my

to access the official Shopee website. Each country has its own unique domain, for example Singapore's Shopee website is

www.shopee.sg

 

whereas Indonesia's website is on

www.shopee.co.id

 

Select your preferred languages and click "Sign Up" on the top right corner of the webpage. If you already have an account you can select "Login".

Same as signing up using the application, you can sign up using your phone number, Facebook, Google, and email.

After signing up, click "Seller Centre" on the top left corner of the webpage, accept the terms and conditions, and login using your username and password that you created.

To start selling click "Add New Product" in the submenu of "Products", then fill in the product name and categories

Enter your product details based on the needed requirements. Make sure your product description is interesting so it will attract more consumers.

Select your cover image for your product, make sure the photos you have uploaded is clear and high quality, so that it enables the consumer to see the product clearly, as well as attracting them to buy your products. You can also add eight extra images to bump up your sales. If all set and done, click "Save and Publish" to publish your product in Shopee.
Now that we know how to start selling on Shopee, let's go over some quick tips to get you started
Tips to Enhance Your Selling Experience on Shopee
Upload great quality photos and provide detailed descriptions
Having a clear image of your product will enable customers to have the right image and idea of how the products looked like, as the product image is the very first thing that gets the consumers' attention when they are shopping online.To help your customers with their decision making, provide proper descriptions to help them understand your products better.
Do market research
Do proper market research on the items or the category of the item that you are selling, compare the prices with other similar items in the market, as well as looking out for the market's trends and demands.Do make sure to keep the price of your item reasonable or lower than other sellers in order to attract consumers to purchase the product from you.
Have promotional strategies
Ask yourself, what attracts Asian consumers the most when it comes to shopping? Discounts. Promotions. Your customers get excited when they see these.Figure out promotional strategies that do not only increase the sales of your product but also let your business/store to become well-known. With frequent promotions going on, more consumers will start to keep an eye on your business/store for future promotions.
FAQs
What is a Shopee preferred seller?

We briefly touched on this earlier on the criteria you will need to fulfill. Now let's talk about what a preferred seller is.Shopee preferred sellers are businesses/stores that are exclusively selected by the Shopee Team due to its excellent sales and outstanding customer service.It can also be determined by the shop's ratings and the number of successful transactions in Shopee. After being chosen as Shopee preferred seller, the store will then gain more exposure in the platform.Following and complying with Shopee rules and policies are also required.
How do some shops offer Free Shipping?Free shipping is only allowed to be offered by shops when:- The seller provides a valid pick-up address that is located within the Shopee couriers service areas.
– The seller's products fit the official packaging provided by the Shopee couriers.
How to set up my pick-up address for Free shipping?– Press the "Me" button, and then to the "My Account" section, and select 'My Addresses'.
– Enter/choose the pickup address, and then press "Set as Pickup Address" after.
What is the Seller Assistant function for?The Seller Assistant function aids the seller to keep track of their orders, as well as organizing the products and managing its customers. Furthermore, it also provides several functions which allow sellers to smoothen their selling experiences, especially for new Shopee seller.
Should You Start Selling On Shopee?
If you're new to selling online, selling on Shopee will be a safe choice as there is no setup fee to start selling on Shopee, and you'll be able to enjoy the features mentioned:
0% Commission Rate for Normal & Preferred Sellers

Shopee Guarantee

Seller Types

The Shopee Mobile Application
If you're thinking about selling on other platforms in the South East Asia region, we have created a list of 13 online marketplaces to sell on, which you can read about here.
Though setting up an account on Shopee is easy, growing your online business isn't that simple.
You still need to upload your inventory on to the platform, which can be very time consuming when you have a lot of products.
You will also need the product photography done, and the images have to be appealing to catch your potential customer's eyes, or they might skip over you for a competitor.
If you plan to give out offers, you will need to prepare other graphics like banners for your offer, and for your online store.
It may seem like a lot of work, and that's because it is; doing these by yourself can eat into a lot of your time that should be used to grow your business.
We can help lessen your burden through our services which you can read about here. If you feel that your time is worth a lot, and should be spent doing more meaningful work, feel free to contact us directly!